I never expected to actually cover the Guardian Changing Media Summit 2012.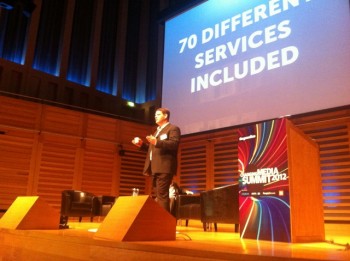 I went there as a CEO to meet people and listen to their ideas. But then I realised that since Tomas Bella from Piano Media of Slovakia is among the speakers and is well known among media professionals both in the Czech Republic and Slovakia, I probably should go the extra mile and cover the event for my news wire service.
I did not take my laptop, nor my Nikon DSLR camera or a digital recording device. So I was left with an iPad and iPhone to work with. And check whether they can provide useful service to a journalist "in the field".
Verdict: the iPhone cannot. The iPad is (with external keyboard as a precondition) ready for the big (professional) game.

If you want to read further:
I had my biggest misgivings about the iPhone camera and they have proven to be justified. iPhone camera has enough pixels and it might be a reasonable piece of kit for a sunny day in the open, but it can hardly provide acceptable level of quality when trying to shoot a decent picture of a conference speaker without acually jumping on the stage and shoveling the camera in his face (as the digital zoom is a no-go area for any serious photography). It does not keep good focus and the colour tint from the stage lighting is too much.
This all could be OK if the place blew up and I survived to take pictures, but it is not a way to cover basicaly static event.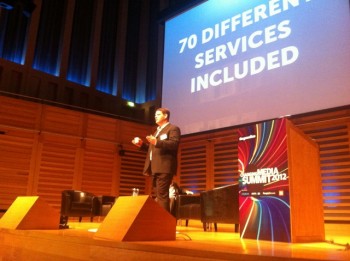 However, for the first time I appreciated the iCloud since it allowed me to share photos between my iPhone and iPad without having to think about it or do anything. I fired up my (free) PS Express to try to tweak my photos but that could not save them, as you will appreciate.
Perhaps a more professional app would have helped, but the photos from iPhone tend to be a bit too "soft" in any case and as my photographer colleagues say – if you do not have it in camera, no amount of Photoshop will actually help. They are right, BTW.
My iPad supplemented with the Zagg blue-tooth keyboard proved to be quite useful, though. The total weight of my kit was about a kilogram, everything was interconnected through iCloud (a free Apple service I am not usually keen on) and the whole setup was small enough to allow me to reserve enough space in my bag to collect conference paper goodies as a feed for my mini scanner, which – unfortunately – does not connect to an iPad without another piece of kit.